Dancing Over Cheviot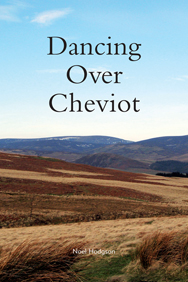 Noel's latest collection, Dancing Over Cheviot, features more than fifty of his poems on a wide variety of subjects, ranging from historical figures with local connections, such as Lord Collingwood, who planted oak trees on his Hethpool estate for use in the building of English naval vessels, and Victorian prison reformer Josephine Butler, born near Milfield and buried at Kirknewton, to more recent noteworthy events and themes such as the annual Chevy Chase, Alnwick Music Festival and the ongoing debate about the merits of wind power and its potential effects on the Northumbrian countryside.

Noel's love of north Northumberland and his knowledge and experience of the area, its history and its people illuminate the pages of Dancing Over Cheviot. And as with its predecessor, the new book also features fascinating background detail about the poems, their various subjects and how they came to be written.
Many of the poems in Dancing Over Cheviot are accompanied by splendid complementary photographs, taken by well-known Alnwick photographer, Kevin Temple. The book was designed by Bill Grisdale Design, Alnwick and printed in Berwick upon Tweed.