Below Flodden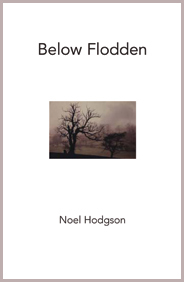 Below Flodden is poet and author Noel Hodgson's debut collection, first published in 2003 and, having proven hugely popular, now into its second printing.
Filled with much local insight, rich historical detail and wonderfully lyrical flights of fancy, Noel's poems – and the simple yet effective commentaries upon how they came to be written – are by turn evocative, informative and wise. A native Northumbrian, Noel Hodgson takes his readers on a unique voyage of discovery and exploration, high into the Cheviot hills, far into the past and deep into one's own mind, heart and soul.
Axe swinging in frenzied fury
He hacks through an English line,
Escaping from the hideous crime
Of careless, ruthless butchery.
Running madly towards the Tweed,
Desperately he gasps for breath,
Only glancing back fearful to heed
Any who might be in foul pursuit.
(from 'Branxton Field', Below Flodden)